The Murderer's Daughter

by Jonathan Kellerman
Published by Ballantine Books on August 18th 2015
Genres: Suspense
Pages: 364
Format: ebook
Buy on Amazon
Goodreads

#1 New York Times bestselling master of suspense Jonathan Kellerman delivers a riveting standalone thriller featuring the unforgettable Grace Blades. Master psychologist by day, seductive adrenaline junkie by night, Grace has a very dark past—one that's about to bleed into a terrifying present.
Review
Grace is a renowned psychologist with a dark past. When a new patient has something horrible happen, Grace wonders if she is now caught up in it. Does any of this relate back to her and her past?
We get to see the story unfold both in the present with adult Grace, in her practice, dealing with patients and in the past. In the past we see all of what Grace had to go through with the most craptastic parents ever. And this isn't even a YA book! But really she winds going through some horrible stuff and  getting shuffled around quite a bit. I really liked how we got to see both sides unfold throughout the entire book side by side.
In the present we are focused on the mess Grace seems to be caught up in due to one of her patients. But Grace is a bad ass. She is like a ninja. Most would be super scared if someone or something was after them. Not Grace. Well she is nervous but she goes all covert spy and is dead set on finding out what is going on and who is behind it. Now while this sounds awesome I actually was less interested in this than I was in the other part of the story – her growing up. I really liked watching how Grace became the person she was in the present. How all the things that happened to her shaped her. We got to see her inner thoughts and how she dealt with everything that came her way.
While I liked how the past and present converged within the story, I wasn't shocked or surprised after a bit. I also didn't feel the need to keep reading to find out what happened. I pt the book down quite a bt and was ok with it. With this kind of book I was hoping to be more invested in what was going on. I also thought it felt a bit slow because of this. I wanted it to move a bit faster.
Still I did enjoy the story quite a bit. Mostly because I loved the character of Grace and how she became the person she was.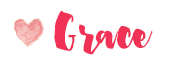 Related Posts