I received this book for free from Publisher via Netgalley in exchange for an honest review. This does not affect my opinion of the book or the content of my review.
How to Make a Wish

by Ashley Herring Blake
Published by HMH Books for Young Readers on May 2nd 2017
Genres: Contemporary, Young Adult
Pages: 336
Format: eARC
Source: Publisher via Netgalley
Goodreads
Reading Challenges: 2017 Contemporary Romance Reading Challenge

All seventeen year-old Grace Glasser wants is her own life. A normal life in which she sleeps in the same bed for longer than three months and doesn't have to scrounge for spare change to make sure the electric bill is paid. Emotionally trapped by her unreliable mother, Maggie, and the tiny cape on which she lives, she focuses on her best friend, her upcoming audition for a top music school in New York, and surviving Maggie's latest boyfriend—who happens to be Grace's own ex-boyfriend's father.
Her attempts to lay low until she graduates are disrupted when she meets Eva, a girl with her own share of ghosts she's trying to outrun. Grief-stricken and lonely, Eva pulls Grace into midnight adventures and feelings Grace never planned on. When Eva tells Grace she likes girls, both of their worlds open up. But, united by loss, Eva also shares a connection with Maggie. As Grace's mother spirals downward, both girls must figure out how to love and how to move on.
Review
How to Make a Wish centers around Grace who has just come from a summer music camp to find her mother, Maggie, has moved them into a new house with a new guy – again. This is something Grace has to deal with all her life. After her dad died in combat when she was two and her mom never really recovered. Grace has had to act like the adult way too much growing up and thankfully had her best friend Luca and his mom Emmy to go to if she needed. When Eva comes to live with Luca and Emmy after she loses her mom she strikes up a friendship and maybe more with Grace but also connects with Maggie over her loss. When Maggie starts to spiral further downward both girls have to try not get pulled down with her.
I cannot express how much I disliked Grace's mom. I know she needed help and had issues but still. She treated her daughter so poorly and never thought about her well being. It just made me so mad. Grace was doing so well despite her mom. She had a chance to interview for great music school and it seemed like mother would ruin it in some way. Ugh seriously – crappy parents are the worst.
While I loved Grace exploring her bisexuality and that being one of the focuses of the book, I didn't love her and Eva. I don't know why but I didn't feel them together. I don't know what it was because I liked Eva. I felt for her since she lost her mom and was thrown in living with new people. I know she connected with Maggie on the loss level but I wish she would have seen how awful she was to Grace. Luca and Emmy were my favorites. They seemed like such genuinely good people and really cared about Grace and Eva.
My biggest complaint was it felt slow and I kept putting it down. It got to the point where I just had to push through it. Overall, I was happy with how it all ended up.  While this wasn't my favorite I still want to get back to her first book Suffer Love. I think this might have been a me issue as so many people really enjoyed this one more than I did.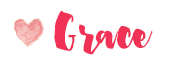 Related Posts